COVID-19 Resources // COVID-19 Recursos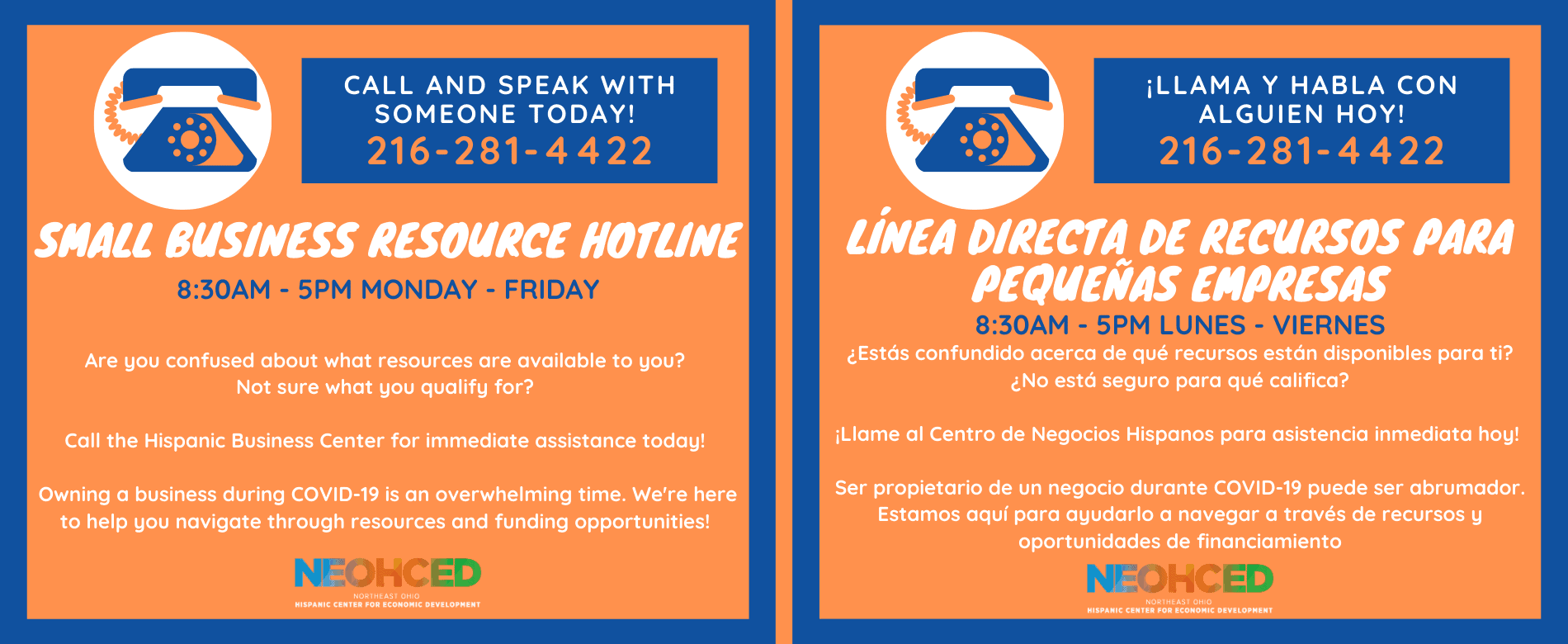 THE PAYCHECK PROTECTION PROGRAM: prioritizes millions of Americans employed by small businesses by authorizing up to $349 billion toward job retention and certain other expenses. Small businesses and eligible nonprofit organizations, Veterans organizations, and Tribal businesses described in the Small Business Act, as well as individuals who are self-employed or are independent contractors, are eligible if they also meet program size standards.

THE PAYCHECK PROTECTION PROGRAM: favorece a millones de Estadounidenses empleados por pequeñas empresas al autorizar hasta $349 billones para la retención de empleos y ciertos otros gastos. Las pequeñas empresas y las organizaciones sin fines de lucro elegibles, las organizaciones de veteranos y las empresas tribales descritas en la Ley de Pequeñas Empresas, así como las personas que trabajan por cuenta propia o son contratistas independientes, son elegibles si también cumplen con los estándares del programa.
SBA ECONOMIC INJURY DISASTER LOANS: Loans will be up to 2M with an interest rate of 3.75%. These loans are for small businesses, agricultural cooperatives, aquaculture enterprises and nonprofits affected by disaster to help meet working capital needs or normal business operating expenses through the recovery period. Businesses are eligible for these loans regardless of whether or not they have suffered property damage.

Préstamos para daños por desastres económicos por hasta $2 millones: Estos préstamos son para pequeñas empresas, cooperativas agrícolas, empresas de acuacultura y organizaciones sin fines de lucro que resultan afectadas por un desastre, para ayudar a cubrir las necesidades de capital circulante o los gastos normales de operación de una empresa a través del período de recuperación. Las empresas son elegibles para recibir estos préstamos sin importar si han sufrido o no suficiente daño en su propiedad.
CUYAHOGA COUNTY has created The Small Business Stabilization Fund to assist small, neighborhood-based businesses throughout Cuyahoga County during the COVID-19 pandemic.

CUYAHOGA COUNTY ha creado el Fondo de Estabilización de Pequeñas Empresas para ayudar a las pequeñas empresas en todo el Condado de Cuyahoga durante la pandemia COVID-19.
OHIO MINORITY MICRO-ENTERPRISE GRANT PROGRAM provides $10,000 in funding to help companies through the current crisis and set them up for the future. To be eligible, businesses must have been certified as a Minority Business Enterprise or woman-owned EDGE-certified business as of Feb. 29, 2020; have 10 or fewer employees and up to $500,000 in annual revenue; and have not received funding under the federal CARES Act.

El PROGRAMA DE SUBSIDIO PARA MICROEMPRESAS DE MINORIA EN OHIO proporciona $10,000 en fondos para ayudar a las empresas a superar la crisis actual y prepararlas para el futuro. Para ser elegible, las empresas deben haber sido certificadas como Empresas Comerciales de Minoria o empresas con certificación EDGE propiedad de mujer a partir del 29 de febrero de 2020; tener 10 empleados o menos y hasta $ 500,000 en ingresos anuales; y no ha recibido fondos bajo la Ley federal CARES.
HELLO ALICE is offering $10,000 grants being distributed immediately to small business owners impacted by coronavirus, as part of our broader mission to ensure Business for All. In addition to funding, grant recipients will receive ongoing support from the Hello Alice community. While there are more applications than funding, we are disbursing funding on a rolling basis and therefore continuing to review new applications.

HELLO ALICE esta ofreciendo subsidios de $10,000 que se distribuiran de inmediato a los propietarios de pequeñas empresas afectadas por el coronavirus, como parte de nuestra misión más amplia para garantizar Negocios para Todos. Además de los  fondos, los beneficiarios de la subvención recibirán apoyo continuo de la comunidad Hello Alice. Si bien hay más solicitudes que fondos, desembolsamos fondos de forma continua y, por lo tanto, continuamos revisando nuevas solicitudes.
KIVA expanded their eligibility, increased loan capacity and added a 6 month grace period. If you're a small business owner who believes you can benefit from a Kiva loan, or you know someone in your community, reach out. For more information about Kiva Cleveland or to apply for a loan please click the link below.

KIVA amplió su elegibilidad, aumentó la capacidad de préstamo y agregó un período de gracia de 6 meses. Si usted es propietario de una pequeña empresa y cree que puede beneficiarse de un préstamo de Kiva, o conoce a alguien en su comunidad, comuníquese. Para obtener más información sobre Kiva Cleveland o para solicitar un préstamo, haga clic en el enlace a continuación.
ECDI's new Recovery Loan Program is designed to provide immediate capital to businesses affected by COVID-19. Must meet all SBA Microloan eligibility requirements. 

El nuevo programa de préstamos de recuperación de ECDI está diseñado para proporcionar capital inmediato a las empresas afectadas por COVID-19. Debe cumplir con todos los requisitos de elegibilidad para micropréstamos de la SBA.
HFLA RAPID RESPONSE LOAN: These loans are for existing business owners and go up to $5,000. They are not intended to replace other loans/grants, but can serve as a bridge or a supplement to them. There must be an identified need for the money. Repayments will not start until mid-June and the loans will be on 27 month terms.

PRÉSTAMO DE RESPUESTA RÁPIDA HFLA: Estos préstamos son para dueños de negocios existentes y son hasta $5,000. No tienen la intención de reemplazar otros préstamos/subsidios, pero pueden servir como un puente o un complemento para ellos. Debe haber una necesidad identificada para el dinero. El pago del mismo no comenzarán hasta mediados de junio y los préstamos tendrán un plazo de 27 meses.
HFLA is offering expedited interest free loans for up to $1,500 for lost wages, childcare cost, and small business losses. These are designed for entrepreneurs who are losing personal income.

HFLA está ofreciendo préstamos acelerados sin intereses por hasta $1,500 por salarios perdidos, costos de cuidado de niños y pérdidas de pequeñas empresas. Estos están diseñados para empresarios que están perdiendo ingresos personales.
THE CITY OF CLEVELAND has created an Emergency Working Capital Loan Fund for small businesses impacted by COVID-19. The fund provides low-interest loans up to $10,000 with generous repayment terms.

LA CIUDAD DE CLEVELAND ha creado un Fondo de Préstamo para Capital de Trabajo de Emergencia para pequeñas empresas afectadas por COVID-19. El fondo proporciona préstamos a bajo interés de hasta $10,000 con terminos generosos de pago.
BLESSED TRINITY PARISH in Cleveland is partnering with Bellaire Puritas Development Corporation (BPDC) Neighborhood Connections and the Sisters of Charity Foundation to provide grassroots entrepreneurs access to resources and funding to support or grow small businesses in the West Park area. This program offers very low interest microloans (up to $2000) with manageable monthly payments and a simple, accessible application process.

LA PARROQUIA DE LA SANTÍSIMA TRINIDAD en Cleveland se ha asociado con Bellaire Puritas Development Corporation (BPDC) Neighborhood Connections y la Sisters of Charity Foundation para proporcionar a los empresarios acceso a recursos y fondos para apoyar o hacer crecer pequeños negocios en el área de West Park. Este programa ofrece micropréstamos de muy bajo interés (hasta $2000) con pagos mensuales manejables y un proceso de solicitud simple y accesible.
HONEYCOMB CREDIT is offering to float possible SBA loans. Loans are crowdfunded and launch in as quickly as 3-4 days. See website for details.

HONEYCOMB CREDIT ofrece posibles préstamos para mantener a flote prestamos de la SBA. Los préstamos se financian mediante crowdfunding y se lanzan en tan solo 3-4 días. Ver sitio web para más detalles.
LISC is supporting small businesses and enterprises affected the Covid-19 across the country, especially those in underserved communities, including entrepreneurs of color, women- and veteran-owned businesses that often lack access to flexible, affordable capital.

LISC está apoyando a las pequeñas empresas y empresas afectadas por Covid-19 en todo el país, especialmente aquellas en comunidades desatendidas, empresarios de color, empresas de mujeres y veteranos que a menudo carecen de acceso a capital flexible y económico.
SBA LOANS: There is a unilateral relief for business owners who already have SBA loans; meaning you can defer payments immediately. See the link below for details.

PRÉSTAMOS DE LA SBA: Existe un alivio unilateral para los dueños de negocios que ya tienen préstamos de la SBA; lo que significa que pueden diferir los pagos de inmediato. Vea el enlace a continuación para más detalles.
UNEMPLOYMENT INSURANCE BENEFITS: Expanded flexibility to receive unemployment benefits during Ohio's emergency declaration period. Employees who are quarantined are considered to be unemployed. The waiting period for eligible Ohioans to receive unemployment benefits will be waived.

BENEFICIOS DE SEGURO DE DESEMPLEO: Mayor flexibilidad para recibir beneficios de desempleo durante el período de declaración de emergencia de Ohio. Los empleados en cuarentena se consideran desempleados. Se eximirá el período de espera para que los residentes de Ohio elegibles reciban beneficios de desempleo.
FEDERAL INCOME TAX DUE DATE EXTENDED: The Treasury Department and IRS are extending the due date for Federal income tax payments due April 15, 2020, to July 15, 2020, for payments due of up to $10 million for corporations and up to $1 million for individuals – regardless of filing status – and other unincorporated entities. Associated interest, additions to tax, and penalties for late payment will also be suspended until July 15, 2020.

FECHA DE VENCIMIENTO EXTENDIDA PARA LOS IMPUESTOS FEDERALES: El Departamento del Tesoro y el IRS están extendiendo la fecha de vencimiento para los pagos del impuesto federal que vence el 15 de abril de 2020 hasta el 15 de julio de 2020, para pagos de hasta $ 10 millones para corporaciones y hasta $ 1 millón para individuos, independientemente del estado civil y otras entidades no incorporadas. Los intereses asociados, las adiciones a los impuestos y las multas por pagos atrasados ​​también se suspenderán hasta el 15 de julio de 2020.
ECONOMIC DISASTER ASSESSMENT SURVEY: Ohio Development Services Agency has created a survey to determine damage related to economic impacts in Ohio. After completing the survey, state or local agencies may reach out to you through the contact information provided.

ENCUESTA DE EVALUACIÓN ECONÓMICA DE DESASTRES: La Agencia de Servicios de Desarrollo de Ohio ha creado una encuesta para determinar los daños relacionados con los impactos económicos en Ohio. Después de completar la encuesta, las agencias estatales o locales pueden comunicarse con usted a través de la información de contacto provista.
HUNTINGTON is offering a variety of programs for their customers in distress. Please see their website for details. Many banks are offering similar programs, reach out to them directly for more information.

HUNTINGTON ofrece una variedad de programas para sus clientes en dificultades. Por favor, consulte su sitio web para más detalles. Muchos bancos ofrecen programas similares, comuníquese con ellos directamente para obtener más información.
LENDERMATCH is a loan marketplace that provides borrowers with the optimal financing options for their unique needs. LenderMatch is a business unit of Inventous LLC, a technology company focused on online marketplaces.

LENDERMATCH es un préstamo que brinda a los prestatarios opciones de financiamiento óptimas para sus necesidades únicas. LenderMatch es una unidad de negocios de Inventous LLC, una compañía de tecnología enfocada en mercados en línea.
ACCION is the largest nationwide nonprofit lending network in the United States. We provide fair and flexible loans, connections to business experts, and access to resources and opportunities specifically tailored to each business owner's unique needs and goals

ACCION es la red nacional de préstamos sin fines de lucro más grande de Estados Unidos. Ofrecemos préstamos justos y flexibles, conexiones con expertos en negocios y acceso a recursos y oportunidades específicamente adaptados a las necesidades y objetivos únicos de cada dueño de una pequeña empresa.
GROWTH CAPITAL SBA COMMUNITY ADVANTAGE LOAN PROGRAM: Part of the Goldman Sachs 10,000 Small Businesses program. Maximum loan size is $250,000, with interest up to Prime + 6%. Eligible uses include fixed assets (real estate must be 51 percent owner-occupied), leasehold improvements, receivables financing, working capital and debt refinancing. Eligible borrowers are manufacturing, distribution, wholesale, commerce or service for-profit businesses.

Parte del programa Goldman Sachs 10,000 de Pequeños y Medianos Negocios. El monto máximo del préstamo es de$250,000, con intereses hasta 6% + principal. Los usos elegibles incluyen activos fijos (los bienes inmuebles deben estar ocupados por el propietario en un 51 por ciento), mejoras de arrendamiento, financiamiento de cuentas por cobrar, capital de trabajo y refinanciamiento de deuda. Los prestatarios elegibles son empresas con fines de lucro, distribución, manufactura, venta al por mayor, comercio o servicios.
LA MEGA is offering local businesses free advertising, to continue to reach Hispanic customers with the products and services they provide. We invite all businesses to contact us at https://www.lamegamedia.com/lamega-ayuda and learn how to take advantage of this limited time program.

LA MEGA esta ofreciendo a las empresas locales una publicidad gratuita para continuar llegando a los clientes hispanos con los productos y servicios que brindan. Invitamos a todas las empresas a contactarnos en https://cleveland.lamegamedia.com/la-mega-ayuda y aprender cómo aprovechar este programa de tiempo limitado.
If you have any questions regarding your business in the difficult time, please contact us. We are here to help.
Si tiene alguna pregunta con respecto a su negocio en este momento difícil, contáctenos. Estamos aquí para ayudar.