ADELANTE BUSINESS PITCH COMPETITION: CALL FOR SUBMISSIONS!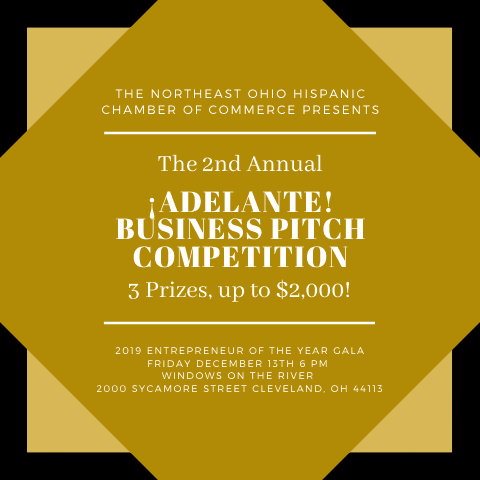 We're excited to announce our 2nd Annual Adelante Business Pitch Competition for our 2019 Entrepreneur of the Year Gala! Applications are due November 15th! See details below.
1st Place $2,000 Cash Prize and NEOHCC Membership
2nd Place $1,000 Cash Prize and NEOHCC Membership
3rd Place $500 Cash Prize and NEOHCC Membership
 Who: Small, diverse, existing businesses that have been operating for at least 2 years and that can provide business financials.
What: Submit a one-page business plan (see template below) and a business pitch 90-second video. Candidates that move to the final round must be available on December 13th to attend the Entrepreneur of the Year Gala to represent their businesses and to receive their award-if chosen.
Pitch Videos: For your convenience pitch videos can be recorded in the Hispanic Business Center offices by a professional on November 8th. Self-video submissions will be accepted, however, videos with poor audio quality will be disqualified.
Please address:
Who are you and what your business does
How long you've been in business
How you make money
Who your customers are?
Why should your business win?
How will this opportunity/investment of the award help in your business?
Video Details:
No longer than 90 seconds
Can be in Spanish, English or Spanglish!
Be creative: show your product, shoot in your environment
Email original file to

[email protected]
Key Dates:
November 8th: Video Recording Assistance at CentroVilla25
November 15th: Applications due (Video and One-Pager)
December 2nd: Top 5 finalists announced
December 4th-11th: Top 5 Meet with Advisor
December 13th: Entrepreneur of the Year Gala-Finalists announced!
Where: All applications must be submitted to Randy Cedeño, [email protected], all advising and video recording sessions will be held at the Hispanic Business Center located at 2511 Clark Ave Cleveland, OH 44109.
Questions? Application information? Email [email protected]